Porsche Body Paint Service
Art In Detail. Value In Craft.
Return To The Genesis Of Thought – Bringing The Classics Back To Life
Porsche Body and Paint Repairs employs advanced reconstructive repair techniques and materials, ensuring your Porsche experience remains unaffected by time and wear. Every Porsche Centre is equipped with modern facilities. Our Porsche certified technicians, using only genuine Porsche parts and following strict repair guidelines, ensure the highest quality of maintenance and repair services to restore every Porsche to their original glory.
Advanced Lightweight Vehicle Body Construction
Porsche vehicles have lightweight body construction, taking into account the growing need for energy conservation and for high-performance electric cars that pave the way for the development of tomorrow's electric vehicles, safety systems and engine technologies.
Safety Performance
Lightweight bodywork facilitates the operation of sensory, imaging and radar-based safety systems
Safety ensured by the use of extra high-strength steel
Innovative design helps dissipate impact forces
Effective collision impact of energy absorption technology diverts away from the passenger compartment, providing multi-faceted protection for passengers
Driving Performance
Boosted acceleration
Shortened braking distances
Lowered center of gravity
Reduced tilt and rotational inertia, enhancing driving stability Optimized wheel traction distribution
Environmental Performance
Composite Body Material
High Strength Protection, High-quality Repair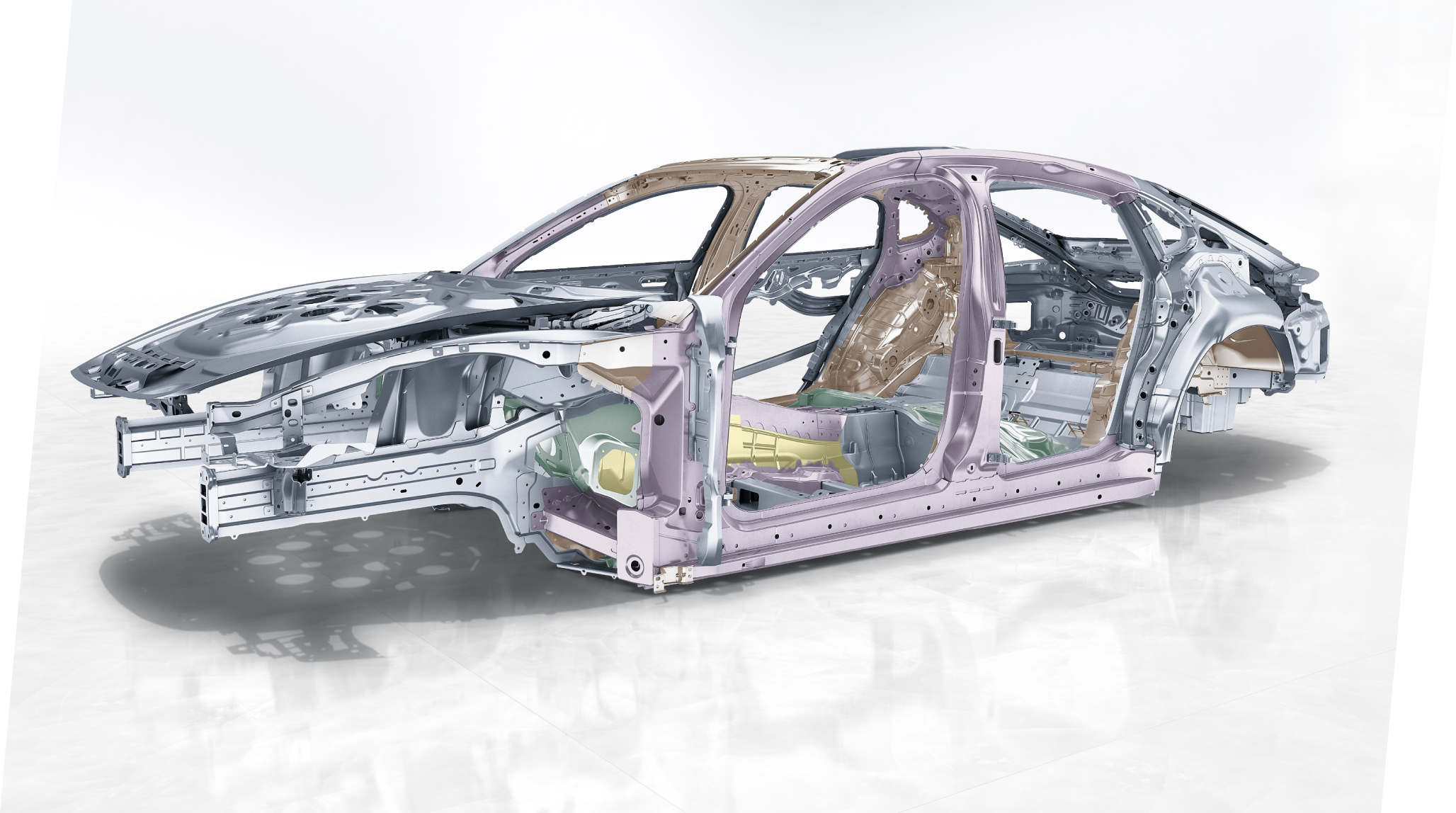 Porsche is expanding the usage of composite type body structures for upcoming models. The composite body structure consists of five materials at different strength levels: steel plate, high strength steel, ultra-high strength steel, extreme strength steel and aluminum. This will help reduce the weight of the vehicle body while increasing overall strength for greater passenger safety. For instance, the Porsche 911 is 14% lighter but 20% stronger than previous models.

Lightweight body structures constructed with new materials and bonding technologies increase the requirements for vehicle repair work. At Porsche, our professional technicians, expertise and equipment are well-honed to provide the highest quality of repair and maintenance services.
Professional Assessment, Accuracy and Transparency
If a Porsche sustains any accident-related damaged, the Porsche Centre will immediately arrange for a professional inspection and assessment using Porsche-approved testing equipment. Once findings are collected, we conduct a data comparison test during the repair service to restore your Porsche to its original condition.

All Porsche vehicles come with multiple "Driving Assistance Systems", providing a wide range of services including Parking Assistance Systems, Surround View System and Lane Change Assist. We calibrate these sophisticated systems to ensure they work perfectly after any damage.
Porsche Certified Technicians
Porsche Centre employs certified specialists that have been trained to carry out services to the high standards held by Porsche. All our specialists have mastered advanced Porsche technologies and guidelines, with deep experience handling complex vehicle damage.
New Superior Driving Experience
Effective Bonding Technology And Materials
During the repair process, our rivet-adhesive bonding technique effectively avoids any structural fractures that could be caused by welding, guaranteeing long-lasting repair for your Porsche. Using cavity wax, we not only protect the exterior of the vehicle, but the interior as well, eliminating any risk of corrosion and rusting.
Porsche Standard Facilities
Porsche Body and Paint facilities in China are amongst the best in the world and are also regarded as the global benchmark for all markets. These state-of-the-art facilities ensure that only the best results are achieved, making Porsche Centre the optimal solution for the preservation and restoration of your Porsche.
Porsche Genuine Parts
Porsche Centre uses only genuine parts for body repair, following standards set by the Porsche factory in Germany. This maintains high repair quality services and allow for successful restorations of Porsche vehicles.
Environmentally-Friendly Water-Based Paint
Porsche Body and Paint Workshops solely use water-based paint, as established by the Porsche factory in Germany. Water-based paint is not only good for the vehicle and the environment, but is also the safer choice for our body and paint technicians.
Spray Booth
Paintwork that is poorly executed can lead to irreparable damage to the car bodywork. Our spray booths are equipped with ventilation and filtration systems specifically designed to reduce airborne particles and maintain zero humidity. The spray booth removes the threat of contamination and is set at an ideal temperature of 25°C to 27°C to ensure optimal painting conditions. During the drying process, air temperatures are increased to 85°C for durable results.
Premium Painting Services
Guaranteed Quality
Porsche Body and Paint technicians follow a strict seven-step painting process, covering epoxying, putty application, primer, color coat, clear coat, polishing and effect coat application. Each step is carried out to achieve a specific effect.
For example, the epoxy coating prevents corrosion and rusting, while the putty is applied to ensure all grooves and dents on the vehicle's surface are filled. With primer, tiny cracks and holes are filled to prevent water penetration. Sanding is required across all steps, except for the application of color and clear coats.

The timing of every step is meticulously controlled and monitored. For instance, polishing cannot be performed until the paint is completely dry.

Well-executed paintwork provides the best visual and quality results, avoiding any damage to car bodywork. Porsche Centres around the world offer premium body painting facilities as well as well-trained, certified technicians to ensure the highest level of service.
At Porsche, every detail matters. Any minor impairment can be left with Porsche Dynamic Repair. Dynamic Repair is part of the Porsche Body and Paint service, resolving any minor damage to your Porsche. With specialist equipment and techniques, small scratches or dents can be easily repaired through various service offerings, including dent repair, glass repair, interior repair and alloy wheel refurbishment.

We are dedicated to carrying out efficient repair services to maintain vehicle performance and appearance so that every Porsche owner enjoys a limitless, carefree driving experience.
Dent Repair
Glass Repair
Interior Repair
Rim Refurbishment
Maintaining your Porsche in pristine conditions requires dealing with the occasional small dent that may appear. With our induction heating technique, every minor dent can be repaired, allowing your doors to appear as they originally should without any damage to paintwork or appearance.
At high driving speeds, sand and soot invisible to the naked eye may cause damage to glass surfaces on your Porsche, creating hairline scratches. Through micro-polishing, these scratches can be repaired by filling them with glass molecules, restoring the glass to their original condition.
Placing objects on, or wiping down interior panels may cause small scratches to appear on the surface. With professional car scratch repair agents and specialized equipment, light or moderate scratches can be effectively removed, leaving your Porsche interior looking as good as new.
Debris or natural roads may pose some threat to your Porsche, leaving scratches on the wheel rims, which sometimes rub against stones or kerbs. Light and moderate scratches on painted rims can be easily repaired with our specialist repair procedures and equipment.
12 Years
The Porsche Long Life Guarantee protects the body of your Porsche from corrosion for up to 12 years*
2 Years
Porsche Centres offer a 2-year warranty on all Porsche genuine parts
3 Years
Porsche Centres offer a 3-year warranty on paintwork
At Porsche, we believe in ensuring every owner enjoys peace of mind, providing warranties that give you the confidence to take on new, exciting journeys through the years ahead.
*Warranty period may vary depending on model year
What to do in the Event of an Accident?
Secure the area by placing a warning triangle at a suitable distance from your car. The warning triangle is located in the luggage compartment of your Porsche and will alert other drivers to steer clear of the site. Call the police immediately to report the incident and request for medical assistance if needed. If your Porsche needs to be towed, please call Porsche Assistance at (852) 2446 5911. For damage assessment and repair services, please contact Porsche Centre Hong Kong as soon as possible.